Nowadays, Thunderbird is one of the most popular email clients. Like other email applications, there are various add-ons available for additional functionalities in Thunderbird. One of the popular add-ons is ImportExportTool NG which provides the ability to import/export files to Thunderbird in various file formats. However, users of this add-on sometimes face problems such as the "Thunderbird ImportExportTools NG not Working" issue. If you are also the user who faces this similar problem then you have come to the right place. In this post we are going to discuss some common ways to fix this issue. 
How to Fix "Thunderbird ImportExportTools NG Not Working"?
Most of the users face these issues while using the Thunderbird Import Export Tools:
Import Email Files not Working

Import Export Tools NG not Working after the Update

The Extension Cannot Import/Export Emails from Files
If someone facing the Thunderbird ImportExportTools NGis not working after installing this tool then they can try these techniques to fix this issue.
#1. Configure an Email Account
Sometimes users try to import email files without configuring any email client. If any email account is not added in Thunderbird then ImportExportTools NG does not allow users to perform the importing process.
Hence, to import/export files using import export NG Tools, you need to add a mailbox in Thunderbird. After adding the mailbox, the Import email file option will be highlighted.
Import Email Files using ImportExportTools NG
Step 1. Launch Thunderbird and select any folder from the left panel.
Step 2. Click on Tools >> ImportExportTools NG >> Import MBOX File.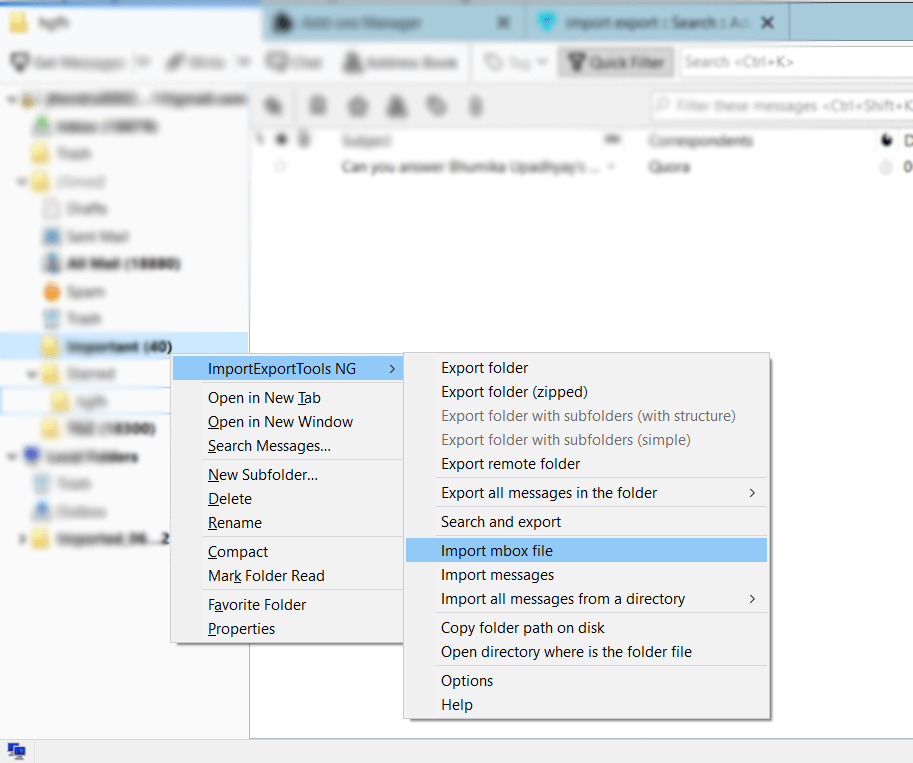 Step 3. After that, Import MBOX dialog box will open. Now, you will be able to import your email files to Thunderbird.
#2. Update ImportExportTools 
The old add-on named ImportExportTools does not support the any version above Thunderbird 60. If you are using the Thunderbird 68, you should install the newly added version of add-on that is import export NG Tools. So, if you are using the updated version of Thunderbird then it is recommended to also update the add-on tool. Otherwise, you will face the Thunderbird ImportExportTools NG not working issue. So remove the old add-ons and reinstall the updated version of add-ons.
How to Uninstall Import Export NG Tools Extension?
Step 1.  Launch Thunderbird application on your system.
Step 2. Now, Click on Tools >> Add-ons and Theme.

Step 3. Find the ImportExportTools NG and click on three dots. 
Step 4. Select UnInstall to remove the extension.
Step 5. Click on Remove button again to confirm.

How to Install ImportExportTools NG Extension?
Step 1. Go to the Tools >> Add-ons >> Theme.

Step 2. Now, type ImportExportTools NG in the Search bar.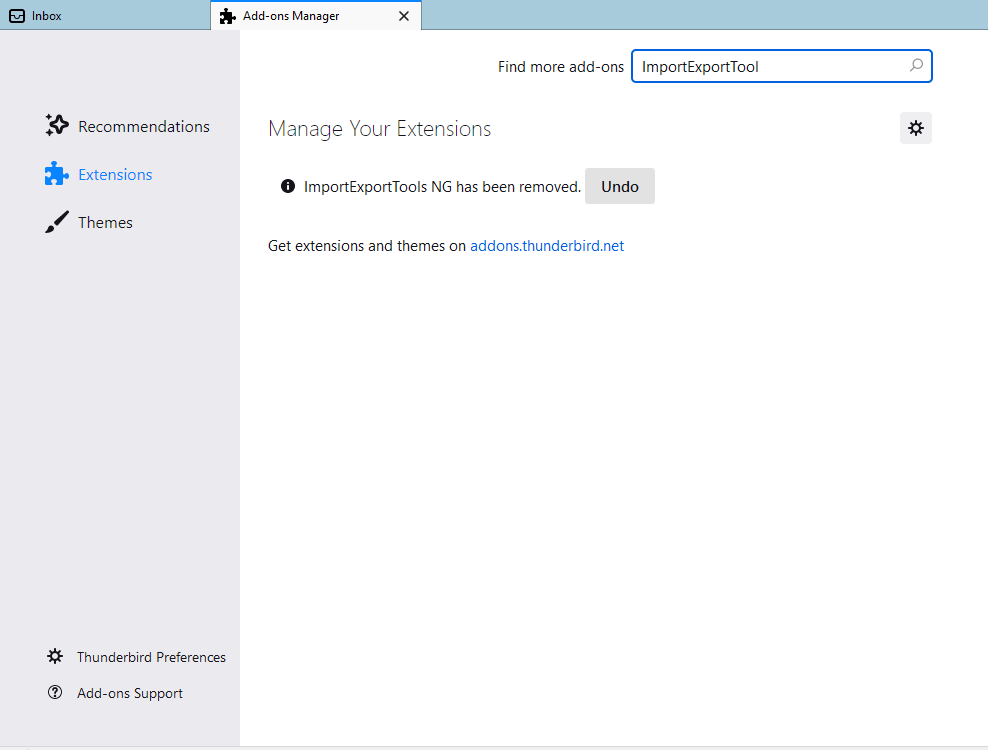 Step 3. After finding the Add-on, clicking on Add to Thunderbird button.

Step 4. Once the installation is complete, restart Thunderbird application and try to export/import files using ImportExportTools NG.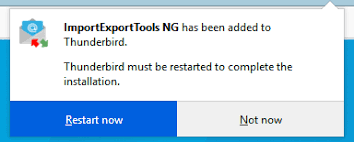 Alternative Solution to Fix "Thunderbird ImportExportTools NG Not Working" Issue
If you are not able to solve this issue using the above mentioned method, you urgently need to import email files to Thunderbird. In such a case, you can use an automated solution that really works. Xtraxtor Thunderbird Converter is the perfect solution to export Thunderbird files. The software works better than the free add-ons. Using this tool, you can export Thunderbird data to various file formats, email platforms and cloud based services.

Steps to Export Thunderbird Emails without Using Import Export NG Tools
Step 1. Install and Launch the Xtraxtor Email Converter tool on your Windows OS system.
Step 2. Then, click on Open >> Desktop Email Client >> Thunderbird Account >> Configured Account.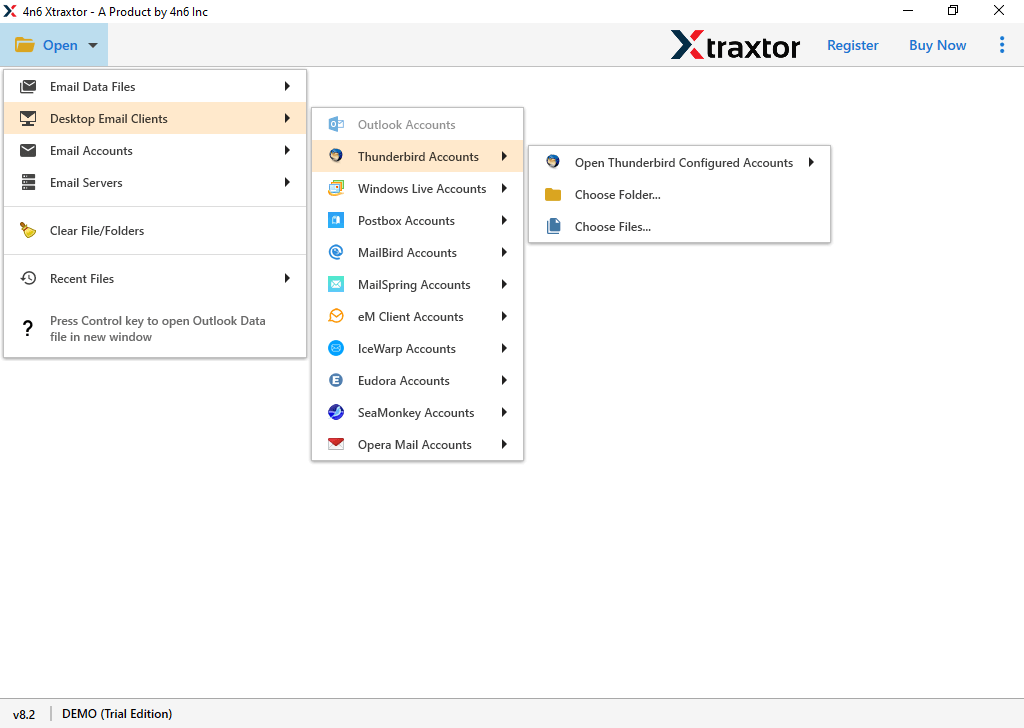 Step 3. Here you can view your mailbox data before migrating them.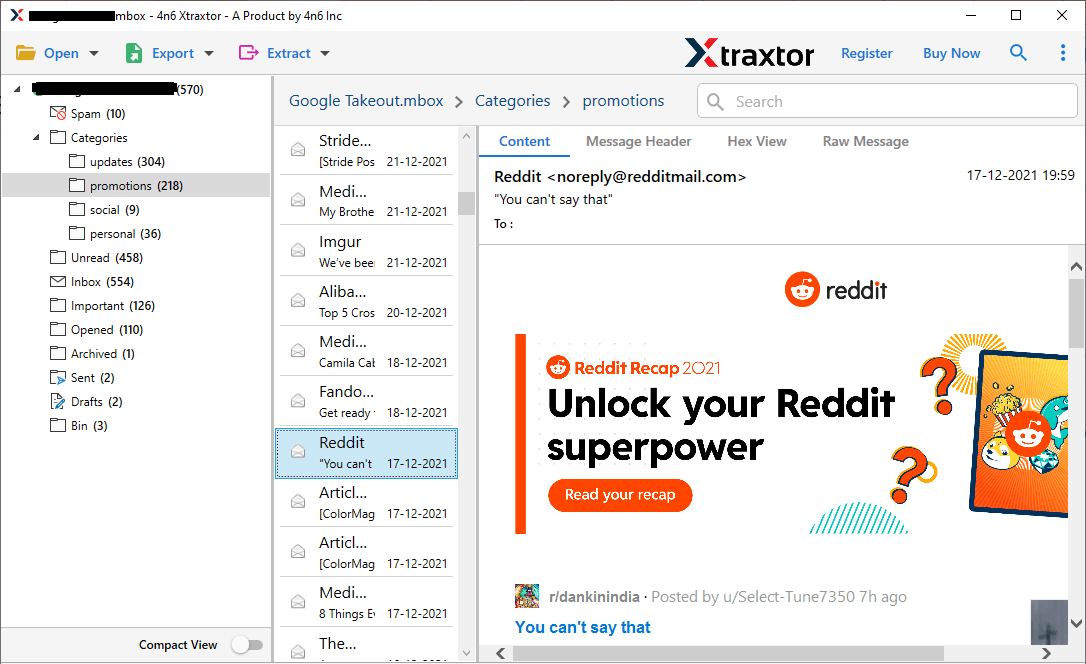 Step 4. Now, click on Export and choose desired file formats from the given list.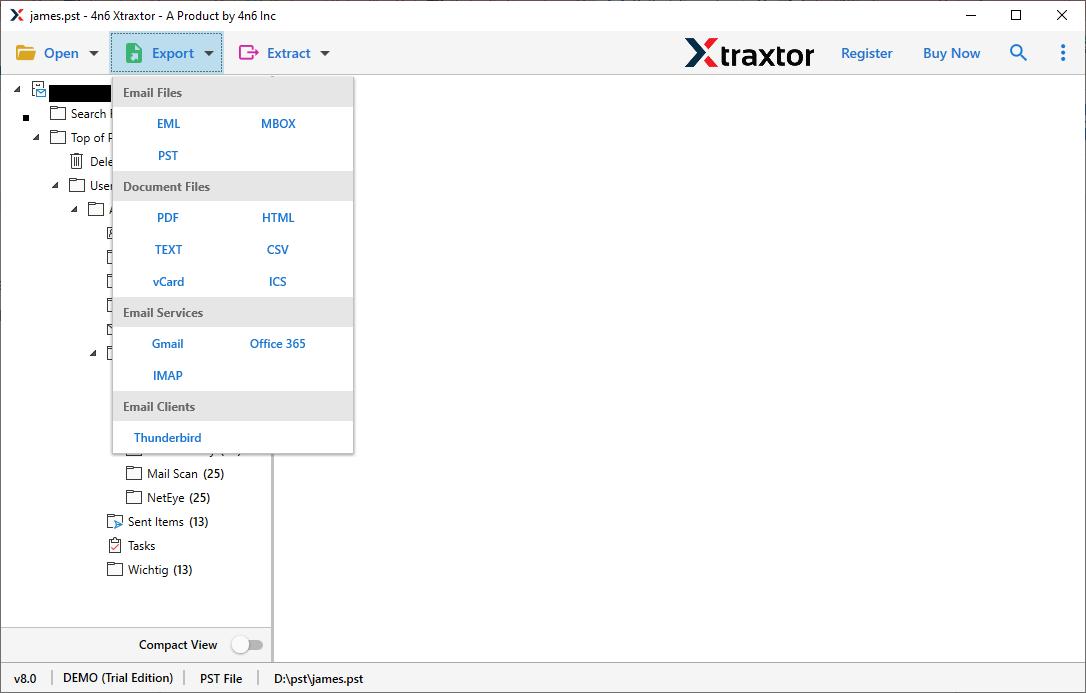 Step 5. At last, browse the Destination location and then press Save button.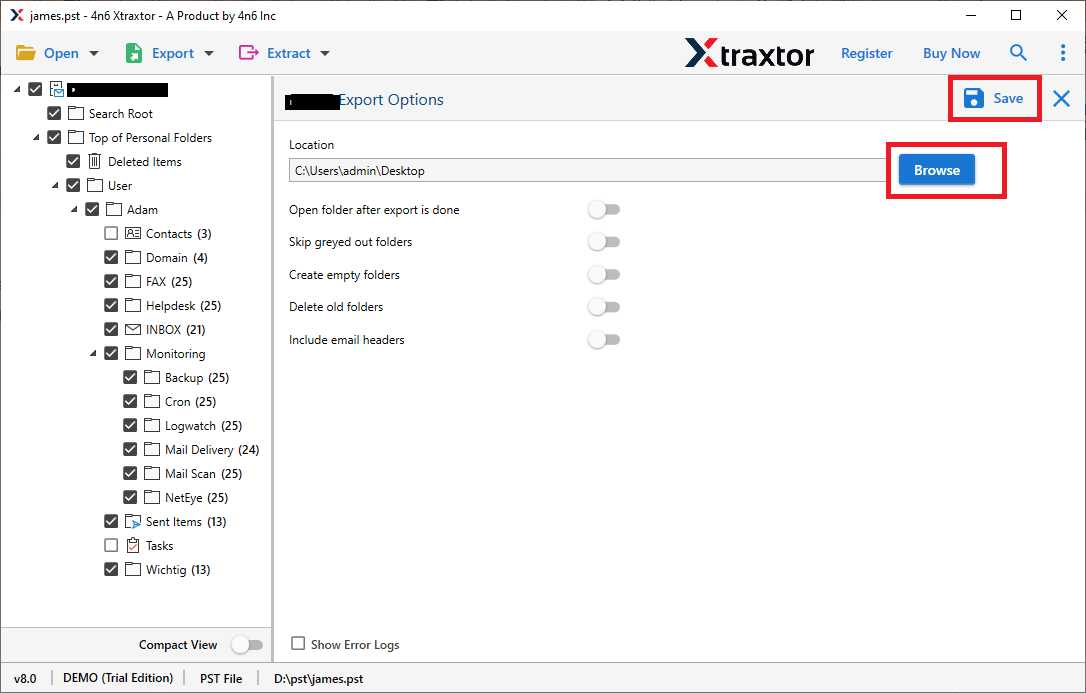 Hence, you can easily export Thunderbird emails while facing Thunderbird ImportExportTools NG not working.
Features of the Xtraxtor Tool
With this software, there are various outstanding features that help to export Thunderbird emails with efficiency.
Direct Export: The software automatically detects the configured Thunderbird account and transfers all the mailbox data with ease. It is an easy way to save your Thunderbird data when the import export Tools NG not working.
Advanced Filters: The software also offers advanced email filter options using which you can export selective emails only. You can apply filters such as – to, from, cc, bcc, name, subject, date, time, etc.
Preserves Data Integrity: With this application, you do not worry about data loss. It preserves 100% data integrity and gives the accurate results.
Support Windows OS: You can install and run this tool on all Windows OS systems without facing technical issues. It works on Windows 111, 01, 8, Vista, XP and all other previous versions.
Conclusion
If you are facing an "Thunderbird ImportExportTools NG not Working" error and want to fix it, then this article will be helpful. In this article, we mention the different situations you can face an error and also mention the way to solve it. However, if in some situations you want to export your webmail account but the Import Export NG Tools  option is not work in Thunderbird, then you can use the automated tool mentioned in the above section. Hope this article is helpful to you.