"I try to export Gmail data with Google Takeout". I have a huge amount of emails in my Gmail, can anybody suggest ways to fix the issue "Google Takeout not working".
Gmail users are frequently facing the issue of Google Takeout not working. Well, do not worry! we are here to help you. This article will guide you to understand the issue and provide the best-recommended solutions on how to solve the Google Takeout transfer not working Problem. Read below to know more.
If you are looking for an immediate solution to fix your Google Takeout not working issue, then you can try the Advik Gmail Backup tool. This software will enable you to export Gmail email data in just no time. Also, you will get 30+ file formats to save Gmail data on your preferred location.
Millions of People use the Gmail application for their email communication. At the same time, some people use this platform to interact with friends, families as well as colleagues. And, some use it for businesses to get in touch with their clients within and across the borders.
If you want to know the methods to fix the "Google Takeout not working issue", then you are in the right place. Here we will discuss four different methods that can help you to fix this issue.
Overview of Google Takeout:
If you regularly use Gmail, you probably already know that Google Takeout is a free tool that Google offers to its users to backup Google Data from different platforms, including Gmail, Google Photos, Google Contacts, and others.
You can download the data in .zip and .tgz file types using Google Takeout. Your data can be opened on practically any system if you download it in a .zip folder. However, an additional tool may be needed to open .tgz files on Windows if you want to save them in this format. Your exports will be divided into numerous files if their combined size exceeds 50GB.
Google Takeout sometimes not working properly. The reason is that there are some limitations. Here in this article, you will get to know in detail the problem behind Google Takeout Failed Error.
Before moving to resolve your google takeout not working query, why don't we know the reason behind the issue? The issue can be caused due to multiple factors that you need to understand. Below are some reasons that can cause Gmail users to face this issue;
Reasons for "Google Takeout Not Working" Error!
Common Errors That Cause Google Takeout to Stop Working Errors:
Network error is also the most probable reason; You may get a network error if you unintentionally lose internet connectivity.
Google takeout allows users to Users are only permitted to make a certain number of tries to archive data files. A link that has been clicked more than once will be discarded automatically.
Google Takeout is a step-by-step solution, so if you become stuck at any point in the procedure. You cannot resume downloading Gmail emails and other data.
Google Takeout frequently fails to back up your data while downloading large data files
Now that you had a look at the different reasons responsible for Google Takeout not working issue, below are some possible ways to fix this issue.
Solutions to Fix "Google Takeout Transfer not working" Issue
Here we list 4 ways to solve this error. No matter if it is Google Takeout not working, or you are unable to backup your Gmail emails, you can find ways to fix it below. Just follow the discussed methods precisely.
Method 1. Follow File Size Limit
If Google Takeout is still refusing to work then it's worth checking the condition of the storage. As Google allows you to archive files up to 2 GB and 500 per folder. And, if you are exceeding this limit, you are certain to face errors in exporting Gmail. So, do check that you are following this size limitation.
Method 2. Re-Login your Google Account
Sometimes if Google Takeout not working, quite possibly the problem is very minor in nature. It is possible that the Google server failed to connect to your account properly, resulting in the google takeout transfer not working error.
But this problem is very unlikely but there is the harm in logging out of your Gmail account and then logging in again. It might fix the highlighted issue if you follow the steps properly.
Method 3. Check Your Network Connectivity
Finally, you can re-check your network if Google Take out not working. It is a very genuine but simple problem, if you are not connected to the network, the Google Takeout process will fail every time. So, you need to exclude this problem and make sure before starting the Google Takeout process.
Method 4. Most Recommended Way to Backup Gmail Emails in a few minutes
As you can clearly see, there are more than a few flaws with the solutions we have mentioned above. It is a flawed feature that needs significant upgrades but for now, you will need something more resilient and reliable to backup your Gmail emails. We recommend using Advik Gmail Backup Tool, it is one of the greatest programs ever created to backup Gmail emails selectively in 30+ multiple file formats such as PST, MSG, EML, MBOX, PDF, DOC, CSV, etc.
Besides, it has more excellent features that you must read:
Allows you to backup Gmail emails in batches.
Export Gmail to PST, MSG, EML, PDF, MBOX, and many other file formats.
Advanced email filter options to include or exclude specific data.
Directly transfer Gmail emails to Yahoo, outlook.com, Thunderbird, Zoho Mail, Exchange Server, and many other webmails.
Download Gmail emails with all the attachments from your account.
Risk-free Utility to backup Gmail with 100% accuracy.
Procedure to Save Gmail Emails to PC | Computer | Hard Drive
Follow the Below Steps to Perform the Gmail Email Backup process;
Step 1. Download and Install Gmail Backup Tool on your PC.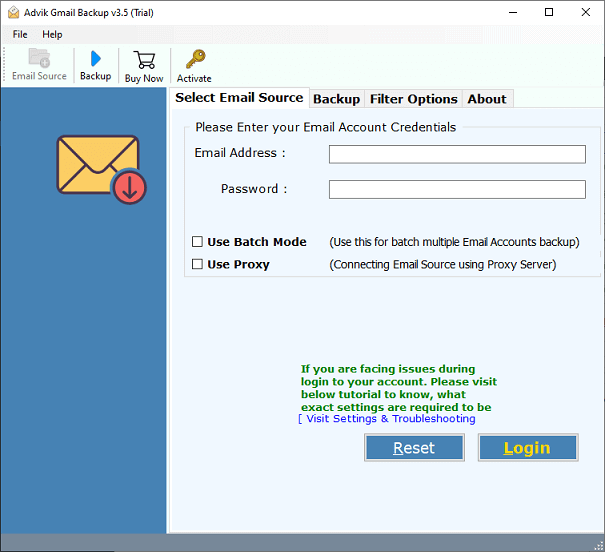 Step 2. Launch the software and enter your Gmail account credentials and press the "Login" button.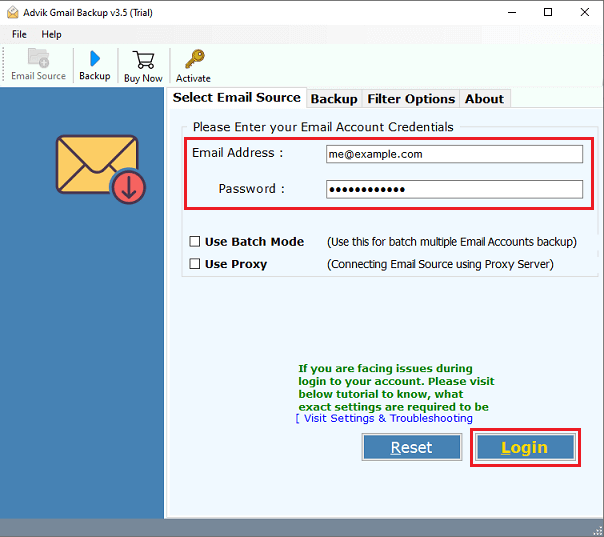 Step 3. Now, Choose the required mailbox folders of your choice.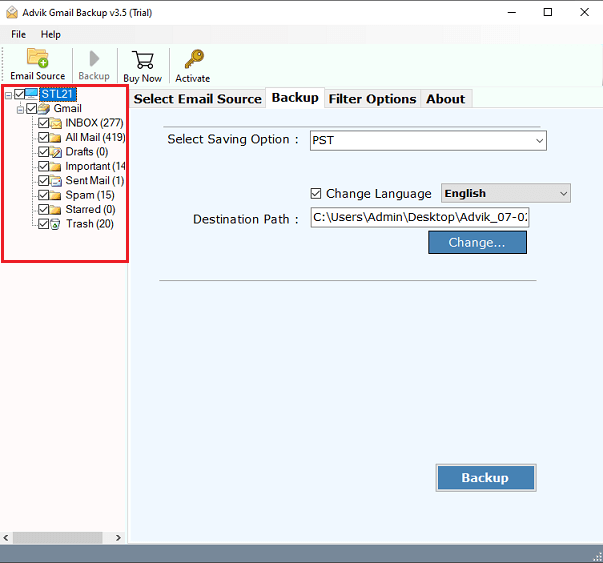 Step 4. Select File Format or saving options to export Gmail emails.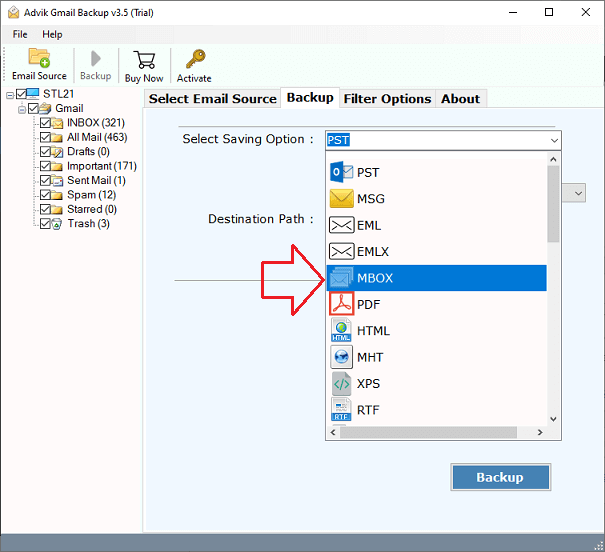 Step 5. Browse the destination path for saving Gmail emails.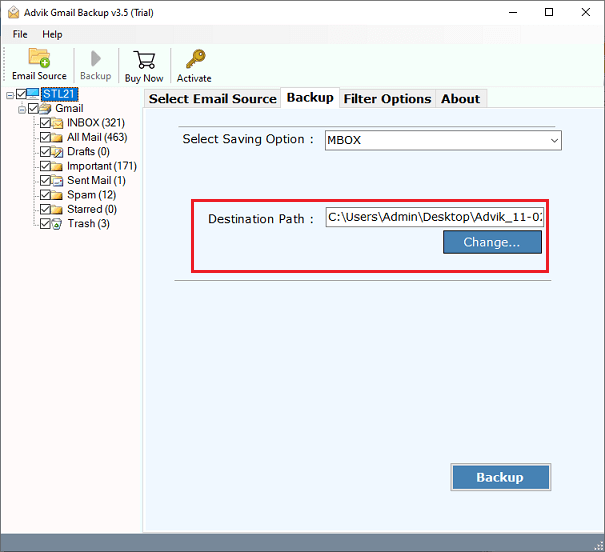 Step 6. Click on the "Backup" button to perform the Gmail backup procedure.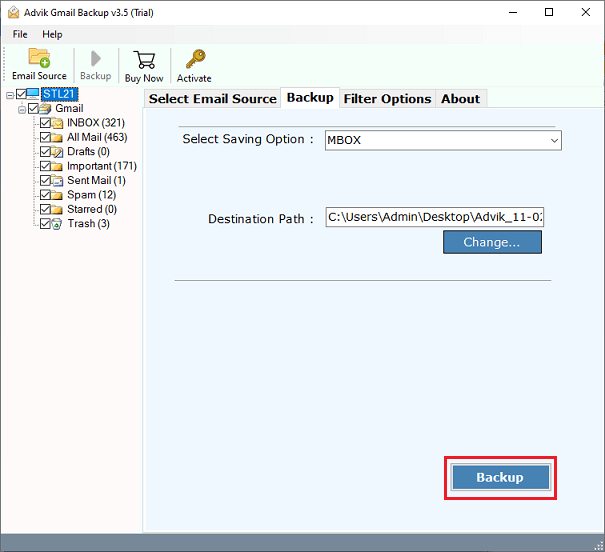 Done!! In this way, you can easily take a backup of your Complete Gmail account in just a few simple steps.
Is Google Takeout Insufficient? – Things To Keep in Mind Before Choosing Google Takeout
Google Takeout allows users to export their data of Google Products, including Gmail and Drive. However, if the amount of data is greater than 50 GB, the user cannot download or save the entire amount of data at once.
There is also a limitation of saving Gmail emails only in MBOX Format.
But, Advik Gmail Backup Tool enables you to easily export Google mailbox into multiple saving options while Gmail only keeps the data for a short period after it has been deleted from the mailbox. It creates a backup of your Google account in the format you want, which you may then use later.